User talk:Marvinleon1
ShoutWiki — express yourself and be heard!
Jump to navigation
Jump to search
Welcome, Marvinleon1, to ShoutWiki Hub!
---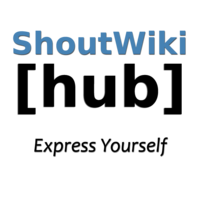 ShoutWiki is a free, ad-supported wiki hosting service. We offer wiki hosting to individuals, companies, schools, universities and a large number of other communities.
Our staff are very experienced with the MediaWiki software and can help you with any and all problems or questions that you may encounter.
Below are some useful links for you:
Please sign your comments on talk pages using four tildes, like this: ~~~~.
If you have any questions, please contact a member of our staff team, visit our IRC help channel, or ask me on my talk page. — Jack Phoenix

(contact) 13:33, 22 October 2013 (UTC)
Test edits
[
edit
]
If you want to test out editing, please use the sandbox for that purpose instead of creating test pages (like "Inicio"). Please do not use important pages like ShoutWiki Hub:Copyrights for test edits!
You're free to create your own wiki on ShoutWiki! Read Help:Creating a new wiki for more information on how to do that. --Jack Phoenix

(contact) 13:33, 22 October 2013 (UTC)