User talk:Llwy-ar-lawr
ShoutWiki — express yourself and be heard!
Jump to navigation
Jump to search
Welcome, Llwy-ar-lawr, to ShoutWiki Hub!
---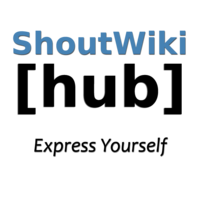 ShoutWiki is a free, ad-supported wiki hosting service. We offer wiki hosting to individuals, companies, schools, universities and a large number of other communities.
Our staff are very experienced with the MediaWiki software and can help you with any and all problems or questions that you may encounter.
Below are some useful links for you:
Please sign your comments on talk pages using four tildes, like this: ~~~~.
If you have any questions, please contact a member of our staff team, visit our IRC help channel, or ask me on my talk page. — Cook879

talk 23:37, 11 March 2014 (UTC)
RE:Forum:Possible to grant specific users the right to edit specific protected pages?
[
edit
]
RE: this comment - yes, yes I do - the reason I said email it to support@shoutwiki.com is it makes it easier to keep track of what you actually want, as there's quite a bit of discussion thereby different users. And as for "only letting authorised users edit pages while everyone could edit talk pages", that can be done with $wgNamespaceProtection. --Cook879

talk 23:37, 11 March 2014 (UTC)
Thanks for the welcome. I know you have server side access since you're staff, but the person asking the question didn't, and also you know more than I do about this stuff and you're the one with access to do the thing I suggested so my comment was just unhelpful. That's all. But thanks. Llwy-ar-lawr (talk) 23:57, 11 March 2014 (UTC)