User talk:Karen
ShoutWiki — express yourself and be heard!
Jump to navigation
Jump to search
Welcome, Karen, to ShoutWiki Hub!
---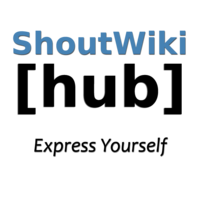 ShoutWiki is a free, ad-supported wiki hosting service. We offer wiki hosting to individuals, companies, schools, universities and a large number of other communities.
Our staff are very experienced with the MediaWiki software and can help you with any and all problems or questions that you may encounter.
Below are some useful links for you:
Please sign your comments on talk pages using four tildes, like this: ~~~~.
If you have any questions, please contact a member of our staff team, visit our IRC help channel, or ask me on my talk page. — ☆The Solar Dragon☆

20:14, 30 May 2013 (UTC)
ShoutWiki Hub
[
edit
]
Hello,
This is the ShoutWiki hub wiki. This is an English language hub that provides users with the ability to create wikis and see pages for these created wikis. This is not a personal wiki for users to add whatever they want to. You can create a wiki via Special:CreateWiki. If you already have a wiki that you can use, please remember to go to that wiki instead of here. If you need to know anything else, please use Special:Contact and send messages in English.
Thank you.
Hola,
Este es el centro wiki ShoutWiki. Este es un centro de idioma Inglés que ofrece a los usuarios la capacidad de crear wikis y ver páginas para estos wiki creada. Esto no es una wiki personal para que los usuarios agreguen lo que quieran. Usted puede crear un wiki a través de Special:CreateWiki. Si usted ya tiene un wiki que se puede utilizar, por favor recuerde que ir a la wiki en vez de aquí. Si necesita saber algo más, por favor, utilice Special:Contact y enviar mensajes en Inglés.
Gracias.