User talk:DJ m0m0
ShoutWiki — express yourself and be heard!
Jump to navigation
Jump to search
Welcome, DJ m0m0, to ShoutWiki Hub!
---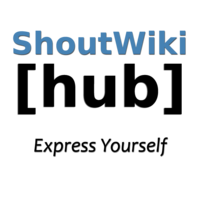 ShoutWiki is a free, ad-supported wiki hosting service. We offer wiki hosting to individuals, companies, schools, universities and a large number of other communities.
Our staff are very experienced with the MediaWiki software and can help you with any and all problems or questions that you may encounter.
Below are some useful links for you:
Please sign your comments on talk pages using four tildes, like this: ~~~~.
If you have any questions, please contact a member of our staff team, visit our IRC help channel, or ask me on my talk page. — Jack Phoenix

(contact) 22:16, 20 April 2013 (UTC)
Your edits on the Starter Wiki
[
edit
]
I've deleted what you created on the Starter Wiki as that wiki is a special "meta-wiki", not meant to be editable by non-staff users (there was a minor configuration glitch that allowed non-staff users to create content on the Starter Wiki, which I've since fixed). All content on the Starter Wiki is imported to most new English-language ShoutWiki wikis (when creating a wiki, you have the option to opt out of starter content, but most users won't, as those templates and whatnot are helpful and can help getting new people started with ShoutWiki and their very own wiki).
I hope this clears things up a bit. :) Please don't hesitate to leave me a message if you need any help with anything. Happy editing! --Jack Phoenix

(contact) 22:16, 20 April 2013 (UTC)