User talk:Anno1404
ShoutWiki — express yourself and be heard!
Jump to navigation
Jump to search
Welcome, Anno1404, to ShoutWiki Hub!
---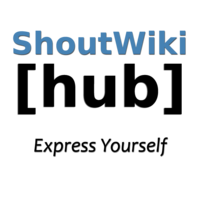 ShoutWiki is a free, ad-supported wiki hosting service. We offer wiki hosting to individuals, companies, schools, universities and a large number of other communities.
Our staff are very experienced with the MediaWiki software and can help you with any and all problems or questions that you may encounter.
Below are some useful links for you:
Please sign your comments on talk pages using four tildes, like this: ~~~~.
If you have any questions, please contact a member of our staff team, visit our IRC help channel, or ask me on my talk page. — Supergeeky1 (talk) 03:44, 1 December 2010 (UTC)
RE:Two more wikias coming here
[
edit source
]
Hi Anno, it's SG1. I just read your question on Jack Phoenix's talk page and while I'm not part of the customer support team, I believe I can answer your question. Yes, what you're asking should be possible. If you're ready for your wiki(s) to be imported, feel free to file a ticket on ShoutWiki's Bugzilla. Just explain your situation as you did on Jack's talk page and provide the url(s) to the wiki(s) in question, and the technical team will take care of the rest. However, as Jack is usually quick to point out, you'll need to create a separate account on the Bugzilla in order to file said ticket. It's rather unfortunate, but that's the way it has to be. If you have any further questions, please don't hesitate to contact either myself or anyone from the ShoutWiki staff. =) Cheers! Supergeeky1 (talk) 04:10, 2 December 2010 (UTC)
Hehe, thank you. It's highly appreciated, although I have no plans of pushing for staff rights at the time being. Cheers! Supergeeky1 (talk) 00:05, 3 December 2010 (UTC)
Looks good. But one question: Why the "en" in front of the name? Example the AWA wiki here doesn't have that.
Jax-Kenobi
13:25, 2 December 2010 (UTC)