User talk:Will k
ShoutWiki — express yourself and be heard!
Jump to navigation
Jump to search
Welcome, Will k, to ShoutWiki Hub!
---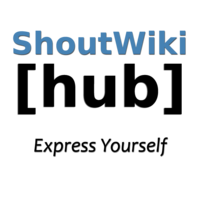 ShoutWiki is a free, ad-supported wiki hosting service. We offer wiki hosting to individuals, companies, schools, universities and a large number of other communities.
Our staff are very experienced with the MediaWiki software and can help you with any and all problems or questions that you may encounter.
Below are some useful links for you:
Please sign your comments on talk pages using four tildes, like this: ~~~~.
If you have any questions, please contact a member of our staff team, visit our IRC help channel, or ask me on my talk page. — Misiek (talk) 08:18, 18 December 2010 (UTC)
RE:My new wiki, Hobbitpedia
[
edit
]
Hi Will k! =) Welcome to ShoutWiki. Absolutely, I'd love to work on the logo for Hobbitpedia. I'll do some searching around for a good image to use today, and if all goes as planned, I'll have it ready by tomorrow. If you think of anything else you'd like to be added to the logo, or if you want any other kind of graphics, don't hesitate to ask.
Also on the subject of Hobbitpedia, though it's relatively new, I feel it has a great deal of potential. I'm an administrator on Darthipedia, the Star Wars Humor Wiki, and we're always looking to absorb fellow humor wikis into our collective add humor wikis to our official friends. Obviously we can't adopt Hobbitpedia as a co-conspirator until you guys have made a few articles first, (the usual number is 50 articles, though exceptions have been made in the case of humor wikis) but once you've grown a bit, I'm sure any vote held on the subject would show unanimous support in favor of official friendship, assuming that's something you'd be interested in. If you have anymore questions, feel free to drop by our IRC channel sometime. Cheers! Supergeeky1 (talk) 11:20, 18 December 2010 (UTC)
Great. =) I live in the Eastern time zone, though that doesn't typically affect when I'm online. I should be on the IRC from now until 10 or 11 PM EST. Supergeeky1 (talk) 12:13, 19 December 2010 (UTC)
Re:IP bans
[
edit
]
Done, thanks a lot! Nicmavr (talk) 08:24, 3 June 2012 (UTC)
No problem. :) —Will Kilgour (talk) 08:38, 3 June 2012 (UTC)
Logo Creation Wiki
[
edit
]
Hi Will k, Logo Creation Wiki has been reimported! Use Special:Contact if you have any problems with it and mention that I've recently reimported it for you. --Lewis Cawte

(talk) 22:10, 24 June 2012 (UTC)
Thanks :) I think it'll be a great asset to ShoutWiki. —Will Kilgour (talk) 11:02, 25 June 2012 (UTC)
Hi Raisa, came to you for help. The truth is a poryecto wikivisión where I am administrator and gave me administrator powers was OLA K ASE, the founder of the wiki, as I reported the founder died because while viajava choco. then wanted pregutarte as I can take his admin powers. Regards. Nacion del fuego100 (talk) 10:02, 27 July 2013 (UTC)
Jack Phoenix replied to your message yesterday. You can see his reply here.--Cook879 talk 11:56, 27 July 2013 (UTC)
another help
[
edit
]
hello, you can pass by IRC links? regards Nacion del fuego100 (talk) 12:35, 31 July 2013 (UTC).
I'm not totally sure what you're looking for, perhaps you could be a bit more specific? {{SUBST:User:Will k/sig}} 02:20, 17 August 2013 (UTC)