User talk:Libros
ShoutWiki — express yourself and be heard!
Jump to navigation
Jump to search
Hello ,welcome!
Welcome, Libros, to ShoutWiki Hub!
---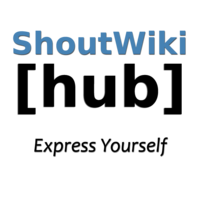 ShoutWiki is a free, ad-supported wiki hosting service. We offer wiki hosting to individuals, companies, schools, universities and a large number of other communities.
Our staff are very experienced with the MediaWiki software and can help you with any and all problems or questions that you may encounter.
Below are some useful links for you:
Please sign your comments on talk pages using four tildes, like this: ~~~~.
If you have any questions, please contact a member of our staff team, visit our IRC help channel, or ask me on my talk page. — Cook879

talk 15:37, 17 March 2014 (UTC)
Hi Libros, why do you keep adding random white space (/ new lines) to the pages you edit? --Lewis Cawte (talk)

15:56, 23 April 2014 (UTC)
Hello , spaces for help (my opinion).Thanks in advance.--Libros (talk) 18:21, 24 April 2014 (UTC)
Issues on some articles in s:w:fr.24-Solution
[
edit source
]
Hi About the message that can be displayed :
a) is probably a connection errorbut no error shoutwiki in all wikis , But Connection , or sea, for access to wiki said, it should be by other means or maybe not THAT lonely wiki is , it is in this Several sites general Internet . In this case the cable Getting recommend either , connecting through some red ( yours ) But specifying the network name and password . Or maybe restarting the router you call moderm .
b ) is a perhaps just cry wiki and error report is Necessary Through Special : Contact . c ) Maybe I have missed something exclusively on the wiki, in that case , here also accrue to the special contact .
D ) None of these , if not none, report a through what the special contact .
Please contest this message in my discussión page NOT here please.
Thanks in advance . --Libros (talk) 19:52, 11 December 2015 (UTC)
Hi Libros.
I don't know if you saw the date of this issue: "November 2012". We are in December "2015". Three years have passed since! Fortunately, Lewis has been very reactive and solved the issue that was MediaWiki extension-related. But thanks for your concern. Cheers! --LIMAFOX76 (talk) 20:24, 12 December 2015 (UTC)
Hi I'm Libros? Thank you to answer my message on my discussion as it was that I asked you .

I'll ask you more than nothing : I was solved what had happened ? And what had happened ? What did you do to get ready for it to arrive ? Cheers Contest in my discussion.
--Libros (talk) 19:35, 13 December 2015 (UTC)
Hi Libros,
I would say, actually you miss something. You didn't solve anything as, like I told you before, ShoutWiki staff has worked on this particular issue that took place a few days after ShoutWiki's recovery. It was three years ago, and like every "new" installation, you can find bugs. You just missed the action. Sorry. --LIMAFOX76 (talk) 07:57, 14 December 2015 (UTC)
Done. As for renaming your account, that's not possible, but I can transfer any user rights you have from your Libros account if you give me a new account name and a list of wikis you run.--Cook879

talk 21:57, 10 January 2016 (UTC)
Hi. I'm afraid I can't give that out. You will need to get in touch with a member of the Customer Support Team. I'll try and let one know in the mean-time.
Thanks,
CJC (talk) 18:13, 24 February 2016 (UTC)