User talk:Admin2
ShoutWiki — express yourself and be heard!
Jump to navigation
Jump to search
Welcome, Admin2, to ShoutWiki Hub!
---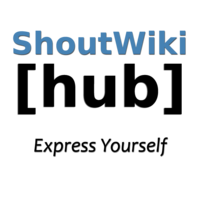 ShoutWiki is a free, ad-supported wiki hosting service. We offer wiki hosting to individuals, companies, schools, universities and a large number of other communities.
Our staff are very experienced with the MediaWiki software and can help you with any and all problems or questions that you may encounter.
Below are some useful links for you:
Please sign your comments on talk pages using four tildes, like this: ~~~~.
If you have any questions, please contact a member of our staff team, visit our IRC help channel, or ask me on my talk page. — Silver Knight (talk) 04:06, 23 February 2011 (UTC)
Noticed you created another account to make more wikis? Wouldnt it be better to do work on the wikis you already created, seeing as there is practically nothing on them? ESCYOS - YOUR GOD! talk | contribs 04:58, 23 February 2011 (UTC)
Multiple accounts
[
edit
]
Hello there, It has come to our attention to that you currently have several accounts registered. These accounts being:
From your own words it is clear that you intend to use these different accounts to circumvent our five wiki limit. And my investigation into this matter has revealed that you have in fact already used these different accounts to found as many as ten different wikis. The wikis you have founded so far are:
Nazism
Cleveland Show
Der Untergang
Club Penguin Fiction
Internet
Internet memes
Great Britain
History
Mafia 2
American Dad
This is unacceptable. Two of the wikis have already been deleted because, in my mind, they represent inappropriate topics and contents. They also violate our terms of use and our Wiki deletion policy. Furthermore, you are violating the wiki deletion policy by abusing multiple accounts to bypass the five wiki limit. There are still eight wikis left which were founded by you, and you also have four different accounts. I will give you one chance to chose which account you wish to keep using, the other three will be blocked globally and permanently. I will also give you the opportunity to choose which wikis you want to keep and which ones we should delete.

I want you to look at your wikis and accounts, and provide me with the following information before the weekend (before February 26).
Which user account you wish to keep, all your remaining wikis will be transfered to this account and you will be able to request any rights the other accounts have for this account.
Which wikis you want us to delete, there are still eight wikis that you created, that number has to be lowered down to five or less.
Failure to provide this information will lead to ShoutWiki staff choosing for you. We will not delete active wikis, but we can have them put up for adoption.
If you have any questions feel free to contact me or another staff member. --Jedimca0

(talk) 22:17, 23 February 2011 (UTC)