Help:Reporting a problem
ShoutWiki — express yourself and be heard!
Jump to navigation
Jump to search
This is a ShoutWiki help page, hosted at ShoutWiki Hub. If you want to suggest changes, leave a message on its talk page. If you want to replace this page with a custom help page for your wiki, click the create button above.
If you find a problem on a wiki and you're not sure how to deal with it, you can report it so that wiki admins and ShoutWiki staff can view and resolve it.
Problems can be anything, including spam, vandalism, content errors and bugs with the wiki software.
How to report a problem
On every page you will see a "report a problem" link. The position varies depending on the skin:
Once you've clicked on "report a problem" you'll be presented with the form below. If you are logged in, then the username and email fields will already be filled in for you.
Note: An email address is required to report a problem. This allows us to let you know when the problem is resolved and, if necessary, ask for more details.
Select the subject your problem is about and type in the details about the issue in the message section. See the image below for an example.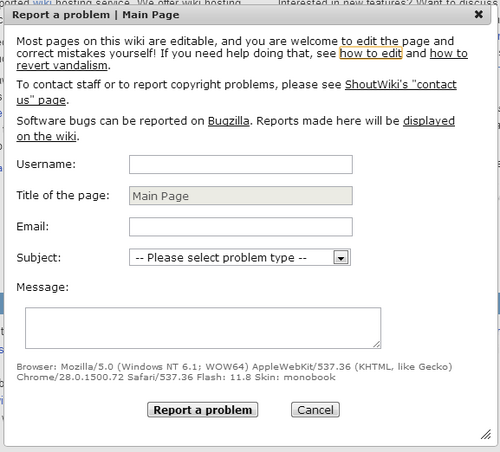 Note: A subject and message is necessary when sending a problem report.
Once you've filled everything in, click the "report a problem" button and your problem is entered into the system.
Viewing your problem
When you submit your problem, you will be given a link to the report.
You can view all reported problems, including your own, at Special:ProblemReports.
For more information on the viewing and resolving of problem reports, see Help:Resolving a problem.