Help:PrivateDomains
ShoutWiki — express yourself and be heard!
Jump to navigation
Jump to search
This is a ShoutWiki help page, hosted at ShoutWiki Hub. If you want to suggest changes, leave a message on its talk page. If you want to replace this page with a custom help page for your wiki, click the create button above.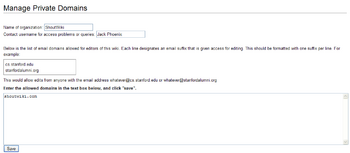 PrivateDomains is an extension that allows restricting editing to users with a certain e-mail address. For example, editing could be restricted so that only users with a gmail.com or yahoo.com could edit. This extension is especially useful for school and university wikis that want to restrict editing only to school students and staff.
If PrivateDomains extension is in use and someone who doesn't have an appropriate email tries to edit the wiki, they will get a warning message and they'll be unable to edit pages.
Managing Private Domains
Wiki bureaucrats are able to access Special:PrivateDomains and manage private domains data through this special page. Bureaucrats are able to specify the organization name (for example, Texas A&M University), the name of a user who can be contacted about problems and the list of allowed email domain names.